Fernmania Timber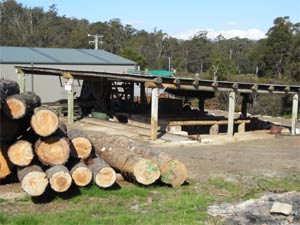 Sawmill
Breaking Down Saw
In 2008 Fernmania established a niche sawmilling operation on the site of the tree fern handling depot at Ling Siding near Scottsdale.
Logs are sourced from areas where they become available in Northern Tasmania from approved logging operations. This allows Fernmania to become a specialist timber supplier and compliments the fern operation in those areas.
Timbers available include eucalypts, blackwood, myrtle, wattle, sassafras and macracarpa.